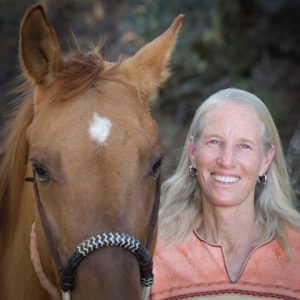 I was blessed to have horses in my life from a very early age. Thanks to two trusty Palominos, this quiet
little girl felt free and empowered when riding the hills and river trails of Carmel Valley, CA. Parting with
those dear equine friends was heartbreak after graduation but there were always other horses for me to
ride to keep the love affair going.
In 2002 I took a job exercising and caring for 25 saddle horses and a team of Percherons on a 5,000
acre private ranch in McCloud, CA. As I formed relationships with the more sensitive and challenging
horses, it became my quest to learn the most natural and effective ways of communicating my ideas to
them while understanding theirs. I have had the privilege of learning these ways over the years from
Joe Wolters, Pat and Linda Parelli, Dave Ellis, Jodi Grimm and Ray Berta.
I purchased a challenging 5 yr. old quarter horse in 2005 who was reactive, aloof and in very poor
health. This horse led me to where I am today; I restarted him using natural methods. I began exploring
wholistic remedies including diet, herbs, homeopathy, acupuncture and massage to bring him back to
physical and emotional health. These modalities have all played a big part in my own personal
wellness. I learned about natural hoof trimming from Pete Ramey and Natural Balance Equine Dentistry
from Amy Scripps.
I began working as an Equine Specialist for Horsepower—an EGALA-based equine learning/therapy
program in 2007. This role has given me an immense appreciation for the powerful healing that humans
can experience in the presence of a horse. I learned about the equine brain and how attuned horses
are as prey animals to us and the world around them. My desire became to help horses find physical
and mental balance in the often stressful human environment.
I pursued the study of Equine Acupressure/Traditional Chinese Medicine at Tallgrass Animal
Acupressure Institute in Colorado. Acupressure was used over 2,000 years ago by ancient herdsmen
and is deeply rooted in the natural world. I received my certification with Tallgrass in 2018 and with
NBCAAM in 2019. I discovered The Masterson Method® from fellow students who were MMCPs. I
admired their abilities to read the horses' processing responses and could see that these two modalities
were very complimentary. I proudly became a Masterson Method® Certified Practitioner in January
2021.
It is deeply satisfying every time I help a horse release tension and access freer, healthier movement.
Whether you own a competitive athlete, working ranch horse, trail companion or therapy horse, I look
forward to helping your equine feel and give her best.