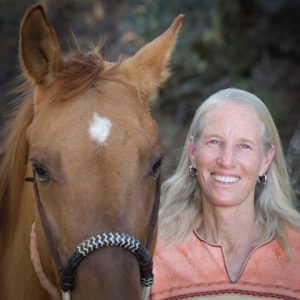 My lifelong love of horses has inspired me to seek the most effective ways of helping these powerful prey animals find physical and mental balance in our often-stressful human world. I have always been drawn to the more challenging and sensitive horses that no one else wanted to deal with. Fortunately, I have received guidance from some very gifted horsemen and women; helping me to understand more natural ways of connecting with these super sensitive equines.
In 2005, I purchased a shut down, highly reactive 4 year old quarter horse in very poor physical health. Because he was unfit for competition as a reined cow horse and then unable to cope as a ranch horse, he had reached a dead end. My heart reached out to him. Our many years' journey back to wholeness included bodywork, homeopathy, acupuncture, natural diet, Natural Balance™ dentistry and balanced hoof care. Witnessing the profound healing effect of bodywork led me to study Equine Acupressure and Traditional Chinese Medicine. I became an NBCAAM certified practitioner in 2019.
It was the Masterson Method® that finally allowed my horse to begin releasing the deeper tensions that were stored in his body all these years. When I saw the profound shifts this work helped my horse to make I knew I had to learn this method and share it with as many equines as I could. In Jan. 2021 I proudly became a Masterson Method® Certified Practitioner.  The Masterson Method® has become my foundation because it is an avenue of direct communication between the practitioner and the horse. By allowing the horse to lead the session, guided by their subtle responses, you enter into an unspoken conversation that builds confidence, invites trust, helps them release emotional and physical tension, builds new neural pathways and helps them find new ways of being.
Masterson Method® Performance Bodywork benefits horses of all equine disciplines by helping them release tension and access freer, healthier movement. I have a big soft spot in my heart for Therapy Horses. Over 15 years of working as an ES (Equine Specialist) for an EGALA-based equine learning and therapy program has given me a deep appreciation for the powerful healing that humans can experience in the presence of a horse. These horses' jobs often make them much in need of stress release and rebalancing. I offer a special rate for therapy programs and equine non-profits.
I live with my husband, Roger, in Atascadero, CA, on the central California Coast and practice in San Luis Obispo and Monterey Counties.