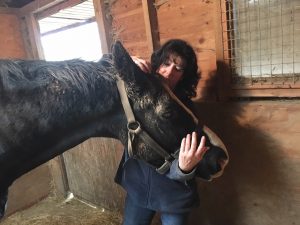 Fiona started training in The Masterson Method® while living in Southern California after meeting and watching Jim doing a demo at a Horse Exposition. At that time, she was volunteering at a local Horse Rescue and looking for ways in which to help these horses recover and trust again after being traumatised and physically abused. Learning this method of Equine Bodywork also helped greatly in the rehabilitation of her own horse while he was recovering from hind Suspensory issues.
Fiona chose The Masterson Method® because it addresses the whole horse – enabling them to release emotional as well as physical restriction and pain, while communicating with them in a way they can understand. This truly holistic approach is kind and gentle and fits in well with the other complimentary therapies that Fiona practices.
In addition to Equine Bodywork, Fiona is also a qualified Homeopath, Animal Aromatherapist, Reiki Practitioner/Energy worker and has a background in Health & Fitness Science and Pilates. Fiona has continued to learn new skills which include Cranial Sacral, Myofascial Release, Accupoint therapy and Kinesiology Taping and incorporates these into her treatments as appropriate. Fiona is committed to a programme of ongoing education and continual professional development in order to help as many horses and their owners as possible.
Seer Green , United Kingdom