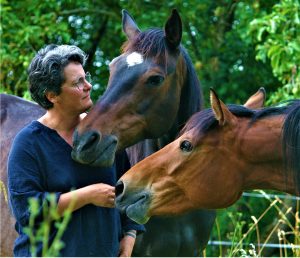 Félicie a découvert l'équitation pendant un séjour scolaire à l'âge de 9 ans et c'est ainsi qu'est née sa passion pour les chevaux, les poneys et les ânes. Elle a suivi des études en production équine et est une cavalière de saut d'obstacles. Après une pause de dix années, elle revient dans le monde équestre et la compétition.
Elle se rend compte que les chevaux lui manquent au quotidien. Elle découvre par le biais d'une autre MMCP la Méthode Masterson® et s'inscrit à une demi journée de découverte, achète le livre de Jim, "Masser son cheval", et pratique quelques techniques sur sa jument. C'est la révélation! Les changements de comportement et les performances ne laissent aucun doute dans la tête de Félicie qui décide de prendre l'avion, direction l'Angleterre pour un séminaire de 2 jours puis la certification 18 mois plus tard.
Plus elle avance dans sa pratique, plus elle se rend compte de la capacité qu'a le cheval de se relâcher dans la douceur et la bienveillance. Qu'il peut être l'acteur principal de son bien-être et ce sans aucune contrainte.
English translation:
Félicie discovered horse riding during a school trip at the age of 9 and this is how her passion for horses, ponies and donkeys was born. She studied in equine production and is a show jumping rider. After a break of ten years, she returns to the equestrian world and competition.
She realizes that she misses horses on a daily basis. She discovers through another MMCP the Masterson Method® and registers for a half-day of discovery, buys Jim's book, "Beyond Horse Massage", and practices some techniques on his mare. This is the revelation! The changes in behavior and performance left no doubt in Félicie's head, who decided to fly to England for a 2-day seminar and then certification 18 months later.
The more she advances in her practice, the more she realizes the ability of the horse to relax in gentleness and benevolence. That he can be the main actor of his well-being and this without any constraint.