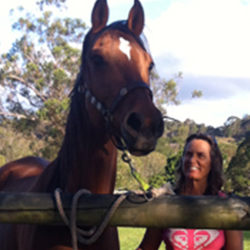 Erin Webber describes the horses she massages as athletes. Athletes whose high performance is regularly called on. Like any athlete, horses build a lot of tension in their muscles by pushing themselves to the limit. Common signs of tension like being lazy, stubborn, not wanting to move, not wanting to perform that is where the skilled horse masseuse can make all the difference. "The result of releasing the tension is better performance, more extension. The result is freedom and mobility," Erin Webber says. It saves the horse from problems later, Erin says. "Basically its pre-maintenance treatment."
The treatment that the Currumbin-based horse masseuse does is called The Masterson Method® developed in the US by horse body worker, Jim Masterson. Erin is the first to bring that technique to Australia after traveling to California to study under Masterson this year. Erin's experience in massage began in 1989 with humans. Her tension releasing skills have been praised by famous athletes like World champion surfers, Kelly Slater and Layne Beachley, and top singers like Grace Jones and Kate Cebrano.
But in 2003, when she was living in Lennox Head, she shifted her passion away from humans to massage horses. It started with her own horse Xian, a little purebred Arab. Xian had a hairline fracture of the left humerus and the vet said he had a very good chance to recover, which he did. Looking back Erin says she applied the same principles as human massage to Xian's leg, "placing hands here and there."
"I didn't know how to read a horse then. I could have done a lot more. It took 18 months to heal and I realized I wanted to study it [horse massage] and did with a lady called Sharon May Davis. She's amazing, the Queen of equine anatomy, known worldwide.
Erin learned a lot from Davis and has applied it to hundreds of horses with good results, but she knew that she wanted the horses she treated to release even more. Through her personal studies and professional development, she came across a horse masseur in the US, Jim Masterson. His gentle method created an interaction between the horse and practitioner in which the horse participated in the process of the release. Masterson's expertise can't be argued with. He was the bodyworker for the 2006 FEI World Endurance Championships in Terengganu Malaysia, in England 2012 and used his method in the World Cup show jumping events and World Equestrian Games 2010 in Kentucky.
Erin was blown out by the results that Masterson was getting. "Seeing what this guy did in America, I wanted it. The way they [the horses] responded just blew my mind." The signs that the horses are totally releasing are when they yawn, lick and chew. Since learning the technique from Masterson in California in January, Erin achieves this level of release with horses nearly every treatment.
"I didn't think I would ever get a horse to yawn. I'm tapping into their behavior and they certainly didn't do that before… He [Masterson] taught me that. They are a prey animal, they can feel a fly on them, so they can feel the most sensitive things. It's really about working in with that. Some of the best responses are from the lightest touch."
The feedback from clients has been positive all round. "People want to know why they should see me. The technique makes the horse release 75 percent. It's complimentary to the chiropractic treatment because the muscles are released. It's about releasing the horse's tension in a relaxed state."
Erin Webber's home is in Currumbin, Gold Coast. Her equine massage practice. 'Release the potential" is mobile.