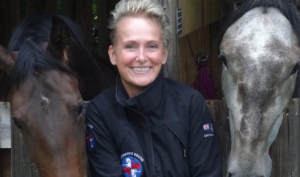 Elizabeth's great grandfather was a horse lover from the start. It wasn't until he enlisted and was subsequently sent to fight in France however, that he discovered the truly inspiring spirit that horses possess. He was a gunner on the muddy battlefields of WW1 and worked with a team of horses he would never forget. Though starving, wet and covered in mud, they continued to pull the guns without complaint, until finally, overcome by the toxic gases used by the enemy, they succumbed. Her grandfather, if ever he spoke of the war, it was usually to tell stories about his team of horses and how valiantly they behaved in the face of man's horrific endeavors. Liz's grandmother, a grand old lady of 101 years, is convinced that Liz's love of horses was a gift from him.
Liz was only three when she met her first horse. A young foal named Gin and Tonic. He made an impression that Liz could not deny and she never looked back. What her family was sure would only be a passing phase, one common to her sex, was to become a lifelong passion and devotion. Liz, in pursuing knowledge and experience, has worked all over the world. Her travels brought her different experiences and opportunities to study, ride, and develop her understanding of the animal. She wanted above all to comprehend its body and mind so that she could use this information to best develop the horse mentally and physically to withstand the pressures put upon it by man. She soon realized that to do this effectively she also needed to understand the physical and mental attributes of the other component of this equation, the human. So, with this as a goal, she has spent the last 25 years studying the anatomy, physiology, and psychology of both equines and humans.
She is now a qualified equine sports massage therapist trained in the US by Jack Meagher and qualified in the UK with Mary Bromiley M.B.E, as well as a qualified human massage therapist and, as of November 2013, is also a qualified Masterson Method® Practitioner. Liz has trained and successfully competed dressage horses, show jumping horses and eventers, as well as delving into the western world of heading and heeling, the show world of Arabs and Morgans and the gaited world of the Saddlebred. During her time in Kentucky, she was privileged to work for the US Equestrian Federation as their sports director for Eventing and Vaulting (another equestrian sport that she investigated) and met and worked with equestrian greats such as Karen and David O'Connor and Captain Mark Phillips.
Her last position, before leaving England for France, was as the Yard General Manager of the renowned Liphook Equine hospital, one of the largest independent equine hospitals in the UK. There she was responsible for the efficient managing of the sizeable yard nursing team as well as the logistical planning for the equine medical facilities housing and providing for up to 50 inpatients. In addition to these responsibilities, Liz was asked to use her skills as a rehabilitation and biomechanics specialist to determine if some of the hospital's patients, presenting with sub-clinical lameness, would respond to specialist rehabilitative training. It was during her seven years at the hospital that Liz had the privilege to meet one of the UK's most eminent biomechanics trainers and researchers, Mrs. Jill Stone. Patients who responded to Liz's training in a short period of time were then referred to Jill to complete their rehabilitation. Liz continued to work with these horses under the watchful eye of her mentor and learned more about equine locomotion and biomechanics in those seven years than in all her years as an equine professional. She was also lucky enough to have access to some of the best veterinary surgeons in the world as well as ingenious and talented rehabilitation farriers and equine physios. She could not have hoped for a better continuation of her education.
Liz now lives and works in Normandy, France. She has set up an equine business there using her human and equine knowledge to work with horse and rider, endeavoring to transform them into a well-oiled machine of cooperation. The Masterson Method® has been a wonderful tool to add to her ever-growing toolbox. This method not only helps the body, but also the mind of the horse and the human. The release of tension achieved in using this method is remarkable and the effects long-lasting. Liz uses the techniques not only on horses but also on their riders and has had some interesting responses. She also uses the concept and some of the techniques during the mounted therapy sessions, all of which are also proving to be very effective. Though based in Normandy, Liz offers clinics all over France, Europe and the UK during which she works using The Masterson Method®, applied biomechanics and mounted therapy sessions to bring horses and riders of all levels and disciplines to a more functional, comfortable and ultimately athletically healthy state.
Facebook https://www.facebook.com/normandyequine/