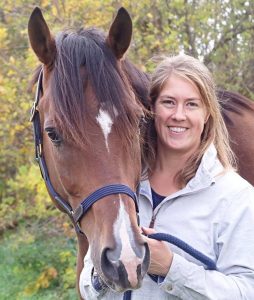 Elizabeth's life with horses began as a youngster involved in the United States Pony Club. She has always been equally fulfilled riding, grooming or companioning with her horse herd. Elizabeth developed herself through yoga, chiropractic work to heal an injury, mindfulness training, and meditation. This led to an awareness of how interwoven her physical experiences and her emotional and stress responses are to one another. With time, she saw echoes of the same connections of body, mind, and spirit emerging within the horses around her.
Elizabeth witnessed horses and their human companions' struggles to improve performance and health while remaining contented and sound.  By being attentive, she became aware of what horses can teach us about the power of subtlety, connection, and presence. Her horse teachers have included Morgans, Thoroughbreds, Belgians, Mustangs, and Rocky Mountain Horses and involved trail riding, jumping, and dressage.  Her interests led her to study equine nutrition, anatomy, conditioning, and general wellness, as well as practicing to become a certified Masterson Method® bodyworker.
After learning from Jim Masterson at the 2-day course and then again at the Advanced 5-Day course, she was struck by the gentleness and effectiveness of the techniques he developed. She found the Masterson Method® value of working "with" the horse, instead of "on" it to be inspiring. Throughout the certification process, the thoroughness of the training program and the support provided by a team of mentors and coaches was invaluable. Masterson Method® helped to open a door to seeing and being with horses in an entirely different way.
As a trainer and bodyworker Elizabeth brings compassion, harmony, and connection to horses and their people, encouraging them to move differently in the world. This work, combined with continuous study, provides a holistic approach leading to improved relationships, health, and performance. By incorporating Masterson Method® bodywork into training and riding as well, she can better understand what a horse is struggling to understand or physically accomplish. That combined with observing how they orient in the world around them leads to alleviating physical restrictions while communicating safety and trust moment by moment.
Elizabeth received her Master's degree in leadership studies from North Central College, a Bachelor's degree from Smith College, is a certified yoga instructor, and a Masterson Method Certified Practitioner, mentor and coach. She loves sharing the learning process with others through workshops and demonstrations.
Instagram: @appleyard_equine
Wheaton, Illinois , United States