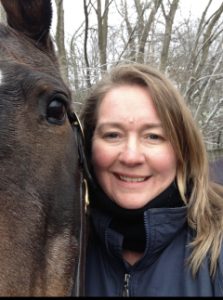 Lisa's undeniable love connection with horses began at an early age during a day camp trail riding trip.  Although she was a little scared when her horse took off, she was calm when he finally stopped and went back to the barn as she smiled and asked, "can I do that again?" Her horse connection had now begun and riding lessons, horseback riding camps, and wanting a horse of her own were building her future.
After having to step back from her dreams, Lisa found her way home several years later when she adopted a 27-year-old mare named Tique. Her current career was helping people relax, unwind, and rebalance through Reflexology and Reiki so why not bring this to horses as well. Wanting Tique to feel her best inspired her to become a Certified Equine Sports Massage Therapist.
Lisa wanted to learn more when she discovered the Masterson Method® and attended a two-day seminar. She immediately noticed how Tique, and other horses responded to Light Touch work while affecting their muscles and releasing tension. This influenced her to go through the program to become a Masterson Method Certified Practitioner and so her future continues.