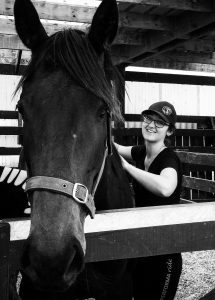 Elan's love of horses began when she bought a cabbage patch pony for her fourth birthday. Her mother finally relented and signed her up for riding lessons when she was six and the love affair began! It's been over 20 years since that first plastic pony and in that time she has attended Pony Club, competed in games tournaments, show jumping champs, endurance riding, show hunter, dressage, eventing – you name it, she tried it. She even dabbled in stunt riding at home (much to her parents horror!)
In 2010 she earned her Diploma of Veterinary Nursing while also attaining her Certificate in Relaxation Massage from the Naturopathic College of New Zealand. Then in 2014 she acquired a thoroughbred by the name of Taz. Taz had been out of work for quite some time and as he came back in, she found that he just wasn't quite right. All online research and every therapist she had out to him said this issue was in his stifle and the sacroiliac joint, and one of the top recommendations for this was massage and bodywork therapy.  After stumbling across the Masterson Method onlinem she found a Weekend Workshop was due to take place in NZ in 3 months time so she signed up and has never looked back.
Now Elan is working as an MMCP in both Auckland and Whangarei and also creates a range of custom equestrian tack, home decor and gifts through her business EMF Equine NZ.