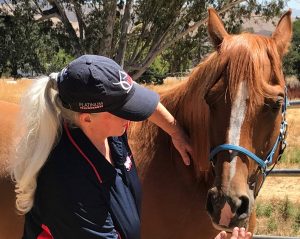 Like all of you who are reading this, I love horses. I've been a certified massage therapist for the past 50 years. My practice has been focused on working with athletes. My human and equine clients have competed at the Olympics, Worlds, Pan American Games, and National events. I enjoy practicing Active Release Techniques®, Osteopathy, various types of Massage, Myofascial and Trigger Point Release, External Qigong, and of course, the Masterson Method®.  The Masterson Method® has been a wonderful addition to my practice. It brings the art of gentle insightful touch, combined with the understanding of a horse's body language to release both mental and physical tension.
Over 35 years ago it became a natural transition for me to begin working with horses as they are incredible athletes. At that time I was showing Hunters and Jumpers. When the horse I'd loved most in my life had a suspensory injury that left him unable to be ridden, I was heart broken. But, the gift I received from this was to realize how bodywork might have been able to help prevent his injury.
At that time the owner of a barn who had over 70 lesson horses gave me the opportunity to work on her horses. When she began seeing them moving with more balance, freedom of movement, and happier expressions I was given 'carte blanche' to treat as many of them as I could fit into my schedule. Those horses taught me a lot, and launched my equine practice. Since then I've worked on horses who compete in dressage, jumping, endurance, eventing, reining, cutting, and western pleasure. I've also been working with wild mustangs. I've been fascinated by mustangs since I was a child and it's been an honor and a pleasure to be with them.
I look forward to helping riders and their horses achieve their most optimal performance. A relaxed horse is a happy horse who's ready and willing to be your partner.
I live and work in the San Francisco Bay Area of California.