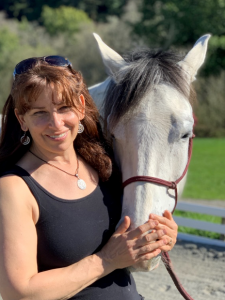 Dianne retired as a professional dancer in 1987 to devote her life to a healing path. Movement, conscious embodiment and connecting to our innate nature have been her longstanding values. She has been a CMT for 30 years.
Her childhood passion for horses and riding began to weave into her healing work when she was first certified in Equine Hanna Somatics and Equine Positional Release.  At that time, she also studied Somatic Experiencing, which is trauma work for people and is based on the principles of the human nervous system. Once she understood how important it was to incorporate somatic subtleties in her practice with people, she realized something was missing in her equine massage work.
That's when she saw Jim Masterson do a demo at the Sacramento Horse Expo. She remembers watching Jim gently place one finger behind the ear of a distracted and high energy stallion. The horse blinked and promptly dropped his head to the ground, then melted into what she recognized from her trauma training as the nervous system shifting to a down-regulated parasympathetic state. She was blown away as she recognized that she was looking right into the eyes of her calling. She signed up for all of Jim's courses right on the spot. She had come full circle. Her long history in healing work could now include horses with a depth she had always hoped.
As a rider, learning The Masterson Method® changed everything. She realized if she was able to reach deep connection with the horse through such subtle touch as a therapist, what might be possible if she rode that way too? She understood that her horse needed her to connect in that way no matter what they were doing together. This practice is still at the core of her daily life. It influences how she rides, but also how she lives, teaches, how she relates to herself and others, and what she strives to bring to horses and their riders.
Dianne has based her equine bodywork practice in Northern California for 9 years, concentrating in Marin and Sonoma Counties. She also leads retreats where riders and their horses both receive bodywork. This is a rich opportunity for riders to learn how to be in connection through their own bodies with the horse's body through softness, awareness and presence. It also becomes an opportunity to learn about our own nervous systems which can develop a fluid and often joyful interaction with our horses.