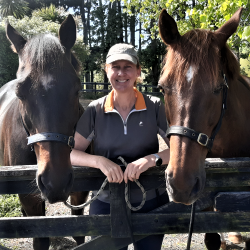 I have loved horses for as long as I can remember.  I grew up spending all the time I could with my horses, riding, going to pony club, doing farm and stock work, and competing.
A career in the Aviation Industry followed, while I continued to ride and compete in Dressage and Show Jumping. Various issues with different horses over the years showed me the importance of bodywork, working with professionals in different modalities.  However, I wanted to learn to do effective bodywork with my own horses, and eventually found some of The Masterson Method® videos on You Tube. I tried the Bladder Meridian, and was stunned by the horse's responses, and how good he felt in his body when I next rode him. I watched one of Jim's demos at Equitana Auckland at 2019, and found the gentle and interactive techniques and the response of the horse really resonated with me. I knew I needed to learn more.
I finished my Certification journey in October 2022.  I love working with and helping horses and their owners, and seeing the improvements in the horse's body and performance.
I am based in South Auckland and regularly visit the North Waikato area. I can visit other areas by arrangement.