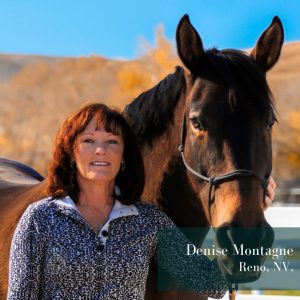 Denise's journey with horses began later in life at 34. Since then she has enjoyed several disciplines including endurance riding, dressage and hunterjumper. But, she truly loves a great trail ride and simply being with horses.
Denise has been a human physical therapist for the past 27 years specializing in outpatient rehab with an emphasis on Manual therapy, Pilates and Gyrotonic. She really loves and excels with the manual therapy part of assisting the body to function optimally as well as how to then train it to work more efficiently. In 2003 her first horse Sham was exhibiting some behavior that appeared to be caused by pain radiating from his back into his flank. He would spin and bite himself, causing welts on his side. After seeing a few vets with no diagnosis, she decided to try some manual therapy techniques as she would on a human. Her therapy, sure enough alleviated the symptoms! This led her to seek further training in equine therapy and bodywork. Her first class was with Narelle Stubbs BaaSC PT. M. Animal ST. PhD Equine Back Pain in 2004. In 2008 she achieved certification as an Equine Rehab Therapist (CERT) through Animal Rehab Institute in Florida again under instruction with Narelle Stubbs and Hilary Clayton BVMS, PhD. She then acquired a license as an Animal Physical Therapist in the state of Nevada in 2009
Finding there was a need for total equine bodywork in the Reno area, Denise sought a method to treat the whole horse, not just the broken part. She realized she had several goals in working with the horses; enhance performance, rehabilitate, improve emotional well- being and strengthen the relationship between horse and rider. A client had mentioned the Masterson Method® to her during a session with her own horse. She was drawn to the methods after taking a weekend course. She then realized that was the ticket she sought! The Masterson Method® intrigued her because it's much more than what is done to a horse it is about working with the horse to release tension, increase ease of movement and enhance performance. Much the same as is accomplished with her human therapy based in osteopathic medicine and Pilates training. Completing her certification in the Masterson Method in October 2016, Denise is excited to be a part of the The Masterson Method community which attracts a wonderful group of people dedicated to improving the lives of horses
Denise enjoys educating owners about ways to help their own horses feel better physically and emotionally. She tremendously enjoys seeing the horse move more freely. Observing horses transform through sessions with the Masterson Method has been especially satisfying. She enjoys being in the moment when working with a horse, feeling, sensing, observing and following her intuition. It's a healing time for both horse and practitioner.