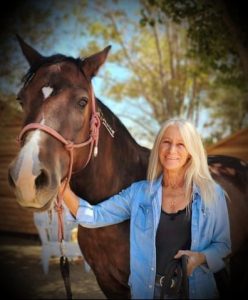 I have had a love for horses as long as I could remember. They have been in my life since 8 years old, used as my transportation as a teenager, as we traveled many miles along the railroad tracks of Washington! A much simpler time!
I have always worked with training of horses in one way or another and learned from the horse that touching a certain place would calm and relax them. So always thought there was something more to that and once introduced to The Masterson Method® through friends who practiced, wanted to learn more!
I currently work at a large rescue with Mustangs and would say I am partial to them, and the unfortunate ones that find themselves here. Thank Goodness for Rescues and what they do!  I Got my first mustang in the 1990's and they have been a passion since. But I do basically love all breeds and have found that Masterson is beneficial to all both mentally and physically. I hope to help in returning something to them in being able to relieve their pain and to find comfort. This method of bodywork does just that and more, no matter what the discipline or circumstance. Masterson Method® is amazing! The horse is the proof of that…both wild and domestic.
I am located in the Southern California area and willing to travel!