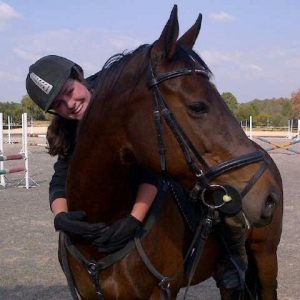 I have been riding for most of my life and am passionate about horses. I knew early on that my career would involve horses.
When I started studying Equine Science, this dream became a reality.  I completed my diploma and my subjects covered a wide range of topics relating to the wellbeing of horses,
I first found out about Masterson Method through practitioner, Rob Holder. I asked him to treat my horse Striker, and the results were incredible. My horses' behaviour and performance changed dramatically. I was fascinated to find out how it all worked.
I discovered that, as they say in their training: "The Masterson Method® is a unique, interactive method of equine bodywork to help build trust with the horse. Years of stress and stiffness can often be resolved in a few sessions, by relieving built-up tension in core muscles and key junctions of the body that affect the horse's performance."
I decided to start the process of becoming a Masterson Method practitioner after attending the seminars while Jim Masterson was in South Africa. I was hooked and was amazed at how little adjustments can make such a huge difference to the comfort, relaxation and performance of the horse.
While practising the method I've loved hearing from owners that their horse has improved and is feeling great – be it physically and/or mentally. I've seen big changes in horses that are very nervous and not so trusting, becoming all cuddly and brave.
I would love the opportunity to work WITH you and your horse.