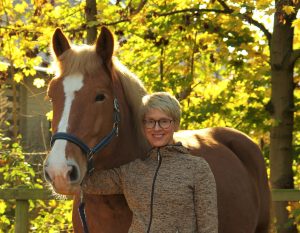 In mehr als 20 Jahren Arbeit als Reittherapeutin für Kinder war ich immer bemüht, das Leben der freundlichen und fleißigen Therapiepferde so angenehm wie möglich zu gestalten. Neben vielen anderen Veränderungen führte dies dazu, dass ich selbst Osteopathie, Kraniosakraltherapie und Akupunktur für Pferde erlernte und einen speziellen Trainerschein im "Longieren als Dialog" erwarb. Mit diesen Qualifikationen machte ich mich auch als Pferdetherapeutin und Trainerin selbstständig. Im Zuge dieser Arbeit begegneten mir gelegentlich Pferde, die eine Behandlung dringend gebraucht hätten, aus Angst vor Schmerzen aber keine Berührungen zulassen konnten. Als ich die Masterson Methode® kennen lernte, erlebte ich das als Durchbruch für diese speziellen Fälle. Wenn die Pferde erkennen, dass ihre körpersprachlichen und mimischen Zeichen verstanden und ihre Grenzen respektiert werden, gelingt es den meisten, sich zu öffnen und zu kooperieren. Sowohl meine Behandlungen als auch mein Umgang mit Pferden im Allgemeinen sind durch die Masterson Methode® noch feinfühliger geworden und ich freue mich immer wieder über das gegenseitige Vertrauen, dass durch diese Arbeit zwischen Mensch und Pferd entsteht.
Ich praktiziere in Bremen und dem nahen Umland, würde aber für eine Gruppe von interessierten PferdebesitzerInnen auch andere Ziele in Norddeutschland anfahren.
English translation:
Working more than 20 years as a riding therapist for children, I always tried to make the life of the kind and hardworking therapy horses as comfortable as possible.  In addition to a lot of other changes, I qualified in osteopathy, craniosacral therapy and acupuncture for horses and got a coaching license in a special form of lunging. With these qualifications I started my own business as a horse bodyworker and trainer.  Every now and then I met horses who badly needed bodywork, but were too much in pain and therefore afraid to be touched. When I came across the Masterson Method®, it was like a breakthrough for those special cases. When the horses realize that their mimic and body language signals are understood and their limitations respected, most of them are willing to open up and cooperate. Due to the Masterson Method®, not only my bodywork, but also my whole interaction with horses has become more subtle and refined. When practicing Masterson, I'm always glad to experience the trust and mutual understanding which is developing between horse and human.
I practice in and around Bremen. For a group of interested horse owners, I would travel within Northern Germany.