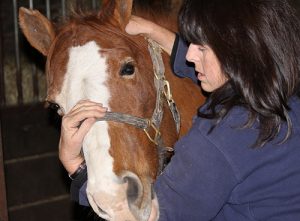 Cyndi has had a lifelong passion for horses. As a horse owner for over 20 years, she became interested in equine massage and bodywork and its implications for performance and behavioral issues. A certified Equine Sports Massage Therapist and a Masterson Method Certified Practitioner, she has studied equine anatomy, bio-mechanics, exercise physiology, nutrition, and behavior, and believes that the participation of the horse in the process, and communication between horse and bodyworker, is essential to achieving results. Working within this framework allows her to address the horse's individual needs in a creative, insightful way.
Cyndi has extensive experience with Thoroughbred racehorses, both on and off the track. Her commitment to helping Thoroughbred racehorses transition to a second career led to her recent work with participants in the Retired Racehorse Training Challenge featured at the Horse World Expo in Harrisburg, PA.
Cyndi's equine bodywork practice, Synergy Equine Performance Bodywork serves a diverse population, from Eventing, Dressage, and Combined Driving clients to Hunters, Jumpers, Racehorses, and Rescues. She travels throughout the Mid-Atlantic area from Connecticut to Virginia, as well as the Carolinas and Florida.