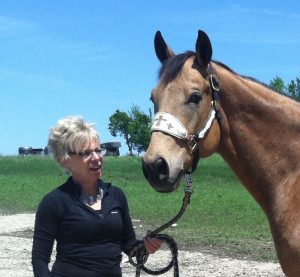 Cindy grew up around draft horses and Angus Cattle, and her love of animals led her to Ohio State University where she received her Bachelors and Masters degrees in Animal Science. She received tenure as faculty and worked for OSU for 15 years. For the next 20 years she worked in the business world as co-owner of six restaurant franchises. During that time, she stayed connected to animals by raising three children on a farm in north eastern Pennsylvania, where they were involved in raising and showing sheep, pigs, goats, dogs, and horses. This drove her passion to form Lattner Equine Performance, which seeks to provide a holistic approach to performance enhancement, preventative maintenance, and rehabilitation therapy for your pet or equine athlete in order to restore the synchronized flow of motion required for a healthy lifestyle and elite athletic performance.
To advance the mission of Lattner Equine Performance, Cindy pursued advance training and certification in several equine modalities, including The Masterson Method. Working with the horse instead of working on the horse, resonated with her life experiences of how animals function optimally, and offered an avenue for her to intertwine her certifications in Equine and Canine Sports massage, Reike, Lymphedema Therapy, and Pain Recognition. By learning to recognize a horse's response to her touch in order to release tension in the key junctions of their bodies, the critical components of feel and timing of The Masterson Method allowed her to synergize her techniques to have further positive impact on animals' bodies.
Cindy believes in the benefit of a team approach that involves coordination among owner, trainer, veterinarian, nutritionist, farrier, dentist, and body worker, leading to a healthier, happier, and therefore, more productive horse.