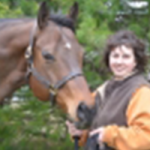 Christina has been involved with horses for over 35 years. Having competed in AQHA All-Round events as a youth and young amateur, she put horses and showing on hold for a few years to focus on her career as a Registered Nurse.
When the time came to get back into the horse world, Christina did so by purchasing a weanling. Enjoying the babies, another weanling was purchased two years later. It was then decided to lease a mare and breed her. This breeding resulted in a colt and one of Christina's current horses. Subsequent breeding resulted in a filly and the reason that Christina found The Masterson Method.
An intermittent, undetermined lameness began to plague this filly as a yearling. It was decided to turn her out and let her grow up. When it came time to start her training, the lameness came back. Having used an Equine Kinesiologist/bodyworker on her youth horse years before, and being intrigued by the positive changes it had made in this horse, Christina felt that this is what the filly needed. The practitioner had long since moved away, so Christina began to search for training programs to learn Equine massage/bodywork. It was at this time that she stumbled across The Masterson Method®. At the time, it was a requirement that a student is certified in another modality, so Christina attended the Equissage Certification program in the fall of 2009. A Masterson Method weekend Seminar in Nov 2010 cemented her decision to obtain her Masterson Method certification. Christina attended a 5-day course in Wisconsin in May 2012 and completed the certification process in May 2013. Her business Upper Hand Equine Therapeutic Bodywork offers bodywork services to the equine residents of Eastern Ontario.
Christina feels that The Masterson Method® was the missing part of the puzzle for her. The results and benefits of this method are second to none. It is a method unlike any other, one you do "with the horse" rather than "to the horse". The filly is now sound and in training, a true testament to this method of bodywork.