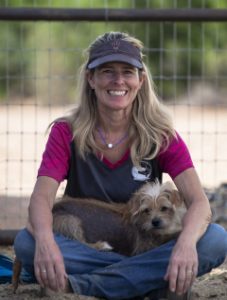 Before becoming a full time Arizona resident years ago, Christie raised and trained quarter horses for competitive rodeo events in central Wyoming. Due to the necessity of keeping her horses sound and happy throughout their rigorous training program, Christie sought and learned from experts in the field of Equine Therapy, various treatment modalities, such as The Masterson Method®, equine chiropractic, traditional massage, myofascial release, microcurrent and other methods commonly used to relieve physical tension and mental distress.
In 2001 she created her own company, Whole Horse Connection, LLC, where she offered her equine healing services to others, and eventually began teaching horse owners how to connect with their own equine partners on a more meaningful level.
A few years ago, Christie was introduced to Somatic Experiencing and EMDR from a professional counselor who used horses as a part of her trauma-focused treatment. Christie had the opportunity to join this counselor as a part of her team, and quickly became motivated to pursue a master's degree in Professional Counseling as well as complete EMDR training.
Christie has special interest in trauma-focused therapy, for horses and humans, and is currently working as an Arizona State Board Licensed Professional Counselor at her private practice "AZ Whole Heart Connection, LLC" in Gold Canyon, AZ.