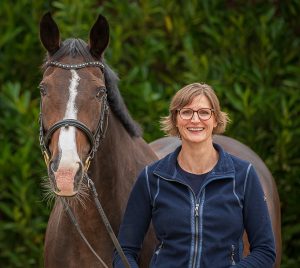 Bereits seit meiner Kindheit sind Pferde ein fester Bestandteil meines Lebens und für mich bis heute nicht weg zu denken.
Ich hatte das große Glück, eine besondere Mentorin zu finden, die mir von Anfang an die Bedeutung einer feinen Kommunikation und Verbindung mit dem faszinierenden Wesen Pferd vermittelte. In  den folgenden Jahren durfte ich Erfahrungen sammeln mit vielen unterschiedlichen Pferden – auch mit sogenannten schwierigen.
Schon immer begleitete mich die Überzeugung, dass Pferde, die vermeintlich keine Verbindung eingehen wollen und sich angeblich widersetzlich zeigen, keinen "schlechten Charakter" haben, sondern auf diese Weise ihr körperliches oder mentales Unwohlsein ausdrücken.
30 Jahre widmete ich mich der Ausbildung von Pferden und Reitern; immer mit dem Ziel, das gegenseitige Verständnis zu  fördern und dabei zu helfen, dass Pferd und Mensch sich wohl miteinander fühlen und in Harmonie ihr gemeinsames Potential entfalten.
Für mich selbst suchte ich immer wieder Trainer, die die Biomechanik und das Wesen der Pferde in den Mittelpunkt ihrer Ausbildung stellen. Je feiner mein eigener Blick dafür wurde, desto mehr wuchs in mir der Wunsch, nicht mehr "nur" Pferde und Reiter zu trainieren, sondern auch Pferden Hilfe und Erleichterung zu verschaffen, die Schwierigkeiten mit sich und ihrem Körper haben.
Auf diesem Weg kam ich zur Osteopathie und anderen Therapieverfahren. Trotzdem hatte ich immer das Gefühl, dass etwas fehlte. Bei meiner steten Suche danach fielen mir Jims Buch und DVD in die Hände. Ich war sofort fasziniert und diese Faszination ließ mich nicht mehr los.
Seit 2019 bin ich zertifizierte Masterson Therapeutin® und freue mich auf diese besondere Weise Pferden wieder zu Wohlbefinden in ihrem Körper zu verhelfen, dass sich deutlich zeigt in mehr Bewegungsfreude und Leistungssteigerung.
English translation:
Horses have been an integral part of my life since I was a child and I cannot imagine life without them to this day.
I was very fortunate to find a special mentor who taught me the importance of fine communication and connection with the fascinating creature horse right from the start. In the following years I was able to gain experience with many different horses – also with so-called difficult ones.
I have always been convinced that horses that supposedly do not want to enter into a relationship and allegedly show resistance do not have a "bad character", but rather express their physical or mental discomfort in this way.
I devoted myself to training horses and riders for 30 years; always with the aim of promoting mutual understanding and helping horses and humans feel comfortable with each other and develop their common potential in harmony.
For myself I was always looking for trainers who put biomechanics and the nature of horses at the center of their training. The finer my own view of it became, the more I wanted to not "only" train horses and riders, but also to provide help and relief to horses that have difficulties with themselves and their bodies.
This is how I came to osteopathy and other therapeutic methods. Still, I always had the feeling that something was missing. In my constant search for it, I came across Jim's book and DVD. I was immediately fascinated and this fascination never let me go.
I have been a Masterson Method® certified Practitioner® since 2019 and I look forward to helping horses regain well-being in their bodies in this special way, which is clearly reflected in more joy in movement and increased performance.