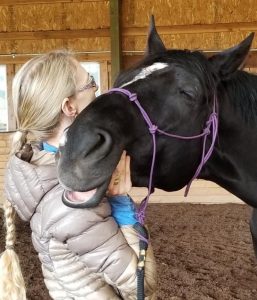 Ceiridwen is the author of two books, Part Wild (Scribner) and Unnatural Landscapes (University of Arizona Press). Her third book, Atomic Okies, is forthcoming. But animals—particularly horses and dogs— have been a constant in Ceiridwen's life. As a young child, Ceiridwen first experienced riding on an unbacked grade pony who promptly threw her off and stepped on her. Later an Arabian mare and a racing-type quarter horse, both with histories of mistreatment and poor training, became her early schoolmasters in listening to and communicating with troubled horses. At seventeen, Ceiridwen published her first article on the subject in Horse Illustrated.
Ceiridwen started her bodywork education as a teenager, studying with Linda Tellington Jones and others. After twenty years as a full-time university professor, she concentrated on bodywork exclusively, this time in a professional capacity with the launch of Prime Performance Equine Bodywork, a practice that now extends to dogs as well as horses. Ceiridwen knows that horses are athletes and to maximize their performance in the ring requires regular, focused bodywork that meets their individual needs and draws from a variety of modalities. Her certifications include equine performance massage, lymphedema treatment, electro-acupressure, and Masterson Method. She is also certified as an independent saddle fitter.
Ceiridwen's riding background is in classical dressage, and she is an active competitor in the hunter/jumper discipline. Her life plan is to keep learning, to find new ways to help the animals in her practice and to improve her skills as a rider and horsewoman.
Ceiridwen is also working in equine sports medicine rehabilitation, including movement retraining.
Facebook: Prime Performance Equine Bodywork NW