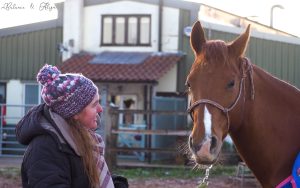 I've has a passion for horses since I came nose to nose with a thoroughbred named James, when I was 8 years old. My passion never faulted but it was not until I reached 30 that I was able to have my 'own' horse on loan.  This finally progressed to buying my own Quarter horse 4 years ago, Rock. This was when my Masterson journey began. I was looking for ways to develop our relationship as well as support him. Attending the weekend course, it became apparent first-hand the vast benefits that Masterson Method® brings, and I was hooked.
From there my relationship with not only horses, but also myself and the people around me, has changed as I progressed with my learning. I love working with horses, owners and intuition to find release and comfort. I enjoy working with everyone from a 'tiny' lead rein miniature Shetland to a 'large' competitive sports horse, but I have a passion for Quarter Horses and there 'quirks'. However, whether it be once a year or once a month, every horse deserves to experience bodywork.
I cover the area sounding the Leicester/Derby/Nottingham boarder.