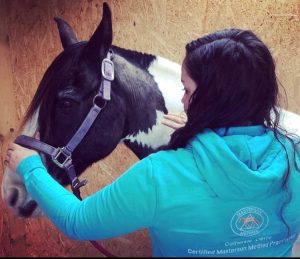 Horses have always been a part of my life. From the age of 12, I was lucky enough to own my first pony Chester. All of my best childhood memories have been when I was surrounded by horses. While I was growing up, I sadly started to struggle with anxiety and depression. The one thing that kept me going was my love of horses and having the responsibility of looking after Chester. For this reason, I felt that I owed everything to my equine best friend and when old age started to catch up on Chester, I wanted to find something that would help him feel more supple.
That is when I first discovered The Masterson Method®. I signed up for a weekend seminar a few years ago and never looked back after the experience. Not only did I completely fall in love with the technique, I was stunned at how with just light touches I could get the horse so relaxed and to release tension. When I noticed how amazing Chester felt after his first session, I realized it was the career I wanted.
5 years later, I finally became a Masterson Method Certified Practitioner and couldn't ask for a better job because now not only do I work with horses but I can help them feel their very best. Now I spend my days filled with my two passions… Horses and The Masterson Method®.
I am based on the Cornwall/Devon border and cover most of those areas but am more than willing to travel anywhere if small groups can be arranged.
My number is 07450199666, but if I don't answer I am likely riding or working on a horse so please leave a message or send a text and I will get back to you ASAP 🙂