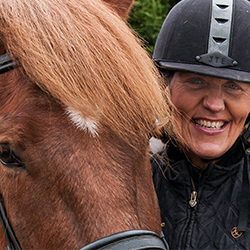 Catherine has worked in the horse industry for 35 years– working on Olympic and Grand Prix eventing and dressage yards and as a freelance instructor. Having worried about the physical demands being placed on horses, she has moved towards a classical riding style with some natural horsemanship influences.
She always felt in the past that she was missing the elusive "relationship" so vaunted by respected horsemen. The Masterson Method® immediately allowed her to see the path and she now enjoys that longed-for connection.
Masterson Method® is all about prevention rather than cure.  Those horses in regular, repetitive work eg. competition training, will reduce the problems and injuries created by repetitive use of specific muscles.  A session monthly will keep your horse competing and cut down those frustrating breaks in training caused by injuries.
Owners who care for their horses instinctively know when something is "not quite right" and whilst a vet should always be called first if the horse is lame or in acute pain, the Masterson Method® can help communicate to the owner where the pain actually lies. Catherine has frequently worked with other holistic practitioners (including animal communicators) resulting in a pain free horse.  However Catherine will recommend horses to a local ISELP (Int. Soc. of Equine Locomotor Pathology) vet (one of only 8 in the country) if she sees the horse requires this type of treatment.
Catherine has passed the first year of Caroline Lindsay's Horse, Saddle and Rider course (marked by Sue Dyson) which has allowed her a greater understanding of the influences and solutions around rider imbalance and saddle fit.
Always continuing her training, Catherine never ceases to be amazed by the results gained through this method and how clearly the horses love their sessions: Relaxed, healthy equine bodies and relaxed happy equine hearts and minds!