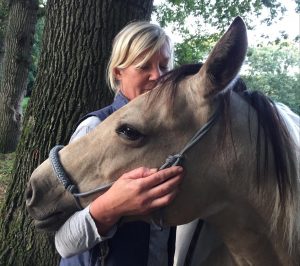 I always asked a horse for my birthday and didn't get it. Probably because I grew up in a family of sailors, a horse and a boat isn't an ideal combination. I became a physical therapist, and later on a breathing and relaxation therapist, and a sea-sailor myself. Riding horses now and then. In 2010 I did the study for physical therapist for horses, and I was practicing Aikido, the martial art, which applied very well in my approach to horses, working a lot with natural horsemanship. In 2014 our sailing career finished, and it was time for a horse, I was already 48 years old and didn't want to become an old woman without a horse…. I have this wonderful buckskin paint horse mare Gunsmoke Dolly, aka Dolce, and we grow together everyday in our journey in softness and connection.
In 2018 I heard Jim was coming to the Netherlands for a weekend seminar, and that seminar was life changing for me, it was coming home, for everything I learned in working as a therapist with both humans and horses. So I proceeded and in 2019 I did my 5-day in the UK, the pandemic slowed down a bit the rest of the journey but in 2022 I got my certification from Vicky Devlin!
I am very happy working with the Masterson Method®, and from my experience in working with people as well, I can help to give them some release or at least awareness about the process as well.