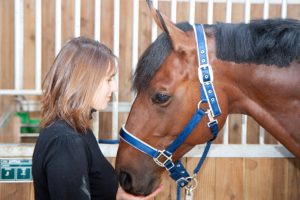 J'ai rencontré Jim en 2018 lorsque j'ai décidé de changer de métier. Ce que je faisais n'avait plus de sens pour moi et je souhaitais trouver une voie qui en avait. J'ai découvert la Méthode Masterson® grâce au livre "Masser son cheval" et suis partie en Angleterre pour mieux comprendre cette méthode américaine qui amenait des relâchements étonnants chez les chevaux.
La formation auprès de Jim et de son équipe en Angleterre a changé ma vie. J'ai découvert un monde où la bienveillance, le respect, la confiance, l'humour ont la priorité sur tout le reste. Grâce à cet environnement d'apprentissage unique, j'ai pu lâcher prise. Lâcher les critiques internes, les jugements, le bon, le mauvais, l'auto-sabotage… et découvrir des ressources insoupçonnées. Découvrir la liberté. Je remercie de tout mon cœur Jim de m'avoir montré que ce chemin existait.
Je propose depuis 2019 des sessions en Méthode Masterson en région parisienne. J'aime aider les chevaux à relâcher leurs tensions dans un but d'amélioration de la performance ou de bien-être. J'aime aussi accompagner les propriétaires et cavaliers vers une meilleure compréhension de leur cheval, vers un renforcement du lien qui les unis, vers plus de complicité. Chaque séance est une rencontre avec un couple, avec leur histoire et c'est ça que je trouve passionnant. Si vous souhaitez une séance de bodywork réalisée en conscience et faisant place à la communication avec votre cheval, contactez-moi.
I met Jim in 2018 when I was changing careers. I was curious about that strange American method I couldn't really understand but was working anyway!
The courses in England with Jim and his team were life-changing. I discovered a world where benevolence, respect, confidence, and humor were common. That special environment, which was so different from what I knew, gave me the opportunity to let go. Let go of judgment, of what is right or wrong, good and bad, of all those internal voices that can limit what you are… and found resources I didn't know I had, found freedom. I thank Jim from the bottom of my heart for showing me that a different way was possible.
Since 2019, I offer Masterson Method® sessions near Paris. I love helping horses to release their tensions to increase performance and wellness. I love to assist owners and riders towards better communication and dialogue with their horses, towards a deeper bond. Each session is a meeting with a couple, with their history, and that's what I find fascinating!
If you wish to have a session where consciousness and communication are part of the bodywork, please contact me.