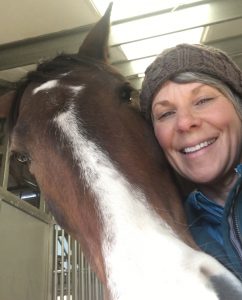 Carol grew up in St. Charles, Illinois and had the pleasure of calling Lamplight Equestrian Center home where she was a working student for many years. She began riding Hunter/Jumpers at the age of 12, and transitioned into Eventing, where she found her true passion for Dressage. She began teaching lessons at the age of 16 and was a typical horse crazy girl. She had the opportunity to travel to FL during the winter as a groom as well as traveling to many different competitions. Her love for animals was always evident and lead her into a few different career paths. Those paths have included being an Animal Control Officer for many years in CA and CO, and a Veterinarian Technician for a vet in CA who did primarily Equine Reproduction as well as a 911 Dispatcher.
Since moving to Durango, CO in 2010 Carol has been able to slowly build up her training and teaching business. Starting the MMCP program has enabled Carol to approach horse training and instruction from a whole new perspective. It has improved her eye on the ground, as well as her feel in the saddle for issues and limitations that need to be addressed. Horses are such stoic creatures and do not complain when they are hurting, and many times we do not fully understand why they are having training issues. She is able to add a different perspective to her training by keeping the horses mobility and muscle tension under control with Masterson Method® bodywork. Carol loves to learn and is always looking to expand her knowledge with all aspects of equine care and development. She is a USDF Certified Instructor through 2nd level, USDF Bronze Medalist and she is a USDF L Program Graduate. It was on the USDF website that she learned of The Masterson Method®.
She is a human massage therapist and was immediately intrigued when she researched MM further. The changes Carol and her clients have seen in their horses has been life changing; some of them no longer need regular injections or chiropractic care and are so much happier in their work and with life in general! Every horse benefits from this method, no matter what discipline you ride.
Facebook: https://www.facebook.com/ascendequine/
Instagram: https://www.instagram.com/ascendequine/