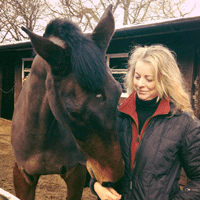 Carol has owned and ridden for 30yrs, hacking and hunting over many a countryside. Converting her hunter mare into a dressage horse was her first project, her second was breeding a foal from that mare, whom she now competes at Advanced Dressage.
Carol owns two horses in their 20s who have competed at high level and still going strong due to the Masterson Method bodywork. Having treated many a horse from dressage to racehorses, eventers etc, it benefits all. One particular race horse who broke down both physically and mentally and was being retired is to race again! Go Lockie
Having done courses in homeopathy and alongside herbal, Carol prefers a more natural approach using holistic medicine before conventional, when possible. All her horses are barefoot. Anyone visiting her yard eg., veterinarions, farriers etc, comment on how relaxed the horses are and a pleasure to deal with.