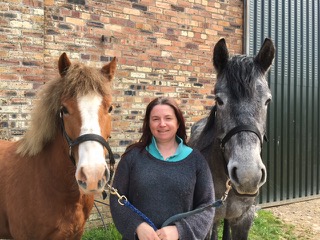 Carly was born in London but moved to Scotland when she was six. The first thing she heard from her new house was the sound of horse hooves. She promptly went round the village trying to find ponies to ride. She eventually got her first pony, Badger and they spent most days galloping…..everywhere!!!
The love of all things equestrian continued from ponies to horses when she represented Fife Hunt Pony Club in both dressage and eventing. She then went onto university in Wales to study for a bachelor of science degree in equine science and followed this with an MBA. On arrival back to Scotland she went to work with local carriage driving legend John Roger and his coaching team of Dutch Gelderlanders, where they won at Royal Windsor and Yorkshire shows. During this time Carly worked through her BHS and UKCC training and became an Horse Riding coach/instructor. Currently Carly has a large clientel of riders from young to old.
Her Masterson Method journey began when Richard Maxwell came and worked on one of her horses, and seeing how effective it was she was desperate to learn more. The Masterson Method has helped in the rehabilitation of one of her ponies Bubbles who loves it.
Carly Lee Equestrian Services