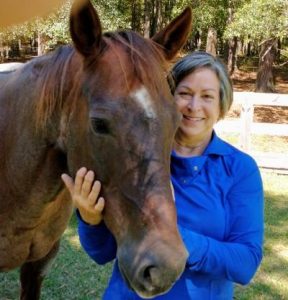 Helping horses achieve balance throughout their body has been central to Carla's passion to contribute to horse health and wellness.  As a barefoot trimmer for more than a decade, Carla has a keen appreciation for balance in the horse's feet.  Her hoof care education was holistically focused in all aspects of horse care and soon she began to look for ways to help the horse achieve balance through their body in addition to their feet.  After studying a couple types of equine massage, something was still missing.
When Carla first saw The Masterson Method®, she couldn't quite wrap her mind around the lightness of the touch and the correlation with the horse's blinks. Certainly, these blinks must be coincidence, she thought.  However, after watching a little longer, the horse's responses to this beautifully light touch as well as the connection between horse and practitioner was undeniable and she was hooked.  The concept of working with the horse and staying beneath the horse's brace response is a perfect complement with Carla's horsemanship.  Carla really loves that this work is based on awareness of the horse's responses and that the horse is such an integral part of the process.  All horses accumulate tension in their bodies, whatever lifestyle or job they have.  This tension, over time, will limit the range of motion in muscles which leads to restriction of movement.  The Masterson Method® work helps the horse release this tension which enables muscles to achieve an improved range of motion and improved quality of life for the horse.
Carla has had the pleasure of bringing this work to eventing, dressage as well as pleasure horses and seen horses benefit in impressive ways.
Carla will be delighted to share The Masterson Method® with you and your horse.
Serving central NC; additional areas considered by request.