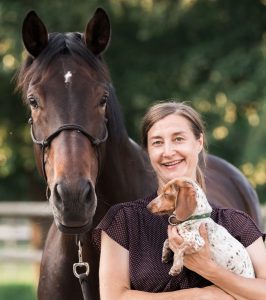 Together with her husband, Caren runs a Training Stable for Horses in Schleswig-Holstein. At Dorotheenhof, great importance is attached to ensuring that the horses feel comfortable all around and are supported in their development – from starting the horses and basic training to specialization and a successful sporting career.
Working from the ground is an important component in the holistic training to become a riding horse. Caren specializes in this area. "It is important to me that the horses enjoy working with humans and that a lively dialogue can develop." Based on the horse's physical conditions and muscular development, Caren uses the many possibilities of ground work to develop and promote agility, coordination and balance.
In order to be able to support the training of the horses in an even more targeted way, Caren continued her education in the field of training therapy and in this context came across the Masterson Method and was immediately fascinated. She had already worked with a number of physiotherapists, osteopaths, etc., but the Masterson Method brought so many new insights and, above all, real positive changes in the horse's body that can be felt when working with the horses. Now Caren not only supports the training of horses at Dorotheenhof, but works with horses from all disciplines in the area of Northern Germany.