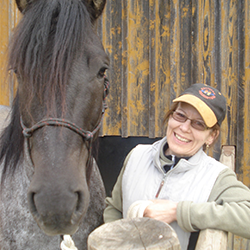 Although not from a 'horsey' family, Bridget was able to begin riding lessons at an early age  in the UK from where she originates. Despite frequently having to move due to her father's work, she always managed to find ponies and horses of all shapes and sizes to ride wherever she lived. Her desire to become a vet and help sick animals was not to be and she was sent to college to learn secretarial skills and study French and Spanish. Bridget bought her first pony almost as soon as she started earning a wage. She still wanted to work with and learn more and more about horses, so resigned from her office job to prepare for BHS exams whilst being a working pupil at Carterton Equitation Centre in the Cotswolds, UK. An opportunity to work in Paris for a year was not to be missed and she was fortunate enough to regularly ride out accompanied by a retired officer from  the Saumur Cavalry School!
The following year Bridget moved to Germany to work, spending weekends with Dr Hiltrud Strasser helping to exercise her two Trakhener horses (at the time unaware about Dr Strasser's developing controversial hoof philosophy). Yet another move took Bridget and her Shagya arab horse south to Munich. Participation in various clinics, courses and workshops have all helped to broaden Bridget's knowledge and approach to her interaction with horses. Shortly after completing a basic carriage driving course (Deutsche Fahrabzeichen IV) she was offered a 10 year old retired racing trotter, Sylvio, to retrain as a ride and drive horse. It was soon evident that this little stallion had many pain issues and following a visit from a horse physiotherapist, Bridget was inspired to study and obtain diplomas in horse massage and physiotherapy and cranial osteopathy for horses, so that she could help Sylvio herself.
Then she discovered The Masterson Method®, which gentle holistic method seemed easily to allow the horse to release tension throughout his body, at the same time turning the horse-human relationship into something very special. Horses respond so well to this method and they all love it!
Bridget now lives in Stein, Ennstal in Austria, practices The Masterson Method® as her main tool and often includes Bach flower therapy to address both physical and behavioural issues in equines.