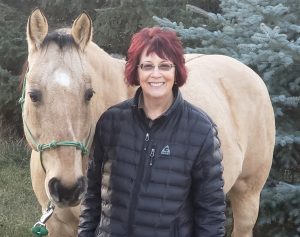 My love for horses began when I was a child and has continued to grow throughout my life.  My start with horses involved participating in 4-H, local horse shows, and trail riding.  Fast forward to today.  Horses are my emotional well-being helpers.  I find them to be relaxing and calming, they also love you for who you are.
I have been studying natural horsemanship and natural hoof care over last 20+ years.  I am constantly seeking alternative healing modalities for myself which then began my journey in seeking alternative healing for horses both in my barn and others that I have come across.
My very first introduction to The Masterson Method® was from an acquaintance who asked me if she could work on one of my horses.  She had been reading the Beyond Horse Massage Book and wanted a horse to practice on. I didn't know anything about The Masterson Method® at that time.
Several years later, I happened across an article about an upcoming weekend seminar.  At that time, I had been looking for something horse related to do when I retired and thought, if nothing else at least I could learn how to help my own horses.  I attended the weekend seminar and knew that I needed to learn more.  I like the thought process behind the method.  What really intrigued me was the fact that the method only works when the horse participates, and it isn't something that you do to the horse.
I feel blessed to be able to offer the many horses I work on this help that they so deserve.