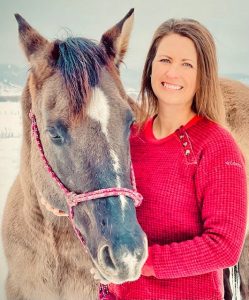 I was born and raised in Etna, WY and still reside here with my husband and children. I learned to ride before I could walk and have been fortunate enough to always have had a horse in my life. Even my husband knows the best remedy if I am a bit over stressed; go out for a ride. Nothing is more relaxing and helps me reset like time in the saddle with a beloved equine partner. I have been blessed with always having a close connection with horses and love learning how to improve it.
I have competed in a variety of western disciplines. Such as reining, working cow horse, ranch versatility, extreme trail and outfitting trail rides.  In order to help my horses, perform at their best during training and competitions, I have tried many different professionals to help meet my horses' needs but never found something that fully met my desired results no matter how frequently treatments were performed. This led me to start exploring other methods where I took a chance on a weekend course with the Masterson Method®. I dove into the program head first after the weekend course. I love to learn and am always working to improve my skills. A favorite quote of mine is from one of Louis Lamour's books stating, "I am just an ignorant man, just trying to become less ignorant." I lead my life to follow this quote knowing you can never have too much knowledge or too many learned skills.
With my riding background and gained knowledge from becoming a Certified Masterson Method Practitioner, I approach riding, training, teaching and working on horses with a whole new perspective. It has improved my eye on the ground, as well as my feel in the saddle for issues and limitations that need to be addressed. The Masterson Method® allows for bodywork to be done that helps keep horses' mobility and muscle tension functioning at its best.