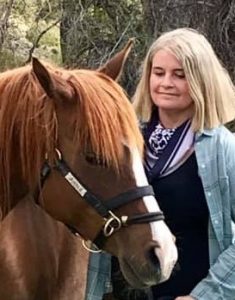 When the Universe guided my soul to train with Jim Masterson himself and the Masterson Method® it was a true gift. It has changed and continues to change the lives of so many into a world of peace with their body and minds, unwinding years of stress and stiffness, improving not only their performance but their WHOLE BEING with a unique flow of techniques. To qualify as a Masterson Method® Practitioner was and is to be truly celebrated. I work with the Universe and energy vibrations every day. I am a horse healer. I trained in Wyoming US with horse whisperer Anna Twinney and with years of personal dedication, energy programs and mentors I connect with our universal energy vibrations to guide where both I and the horses need to be, at that present moment. I do not treat or diagnose and with veterinary consent, I only work with both Reiki and Masterson combined as I believe it's always physical. My gift of communication with the horses is evidence-based i.e. facts I would never know and the remote healing and communication worldwide is with consent and therapists. I haven't always been in this place. I have Fibromyalgia. I also once had debilitating Chronic Fatigue Syndrome all through overwork and "life". I learned the hard way.
Obsessed with horses since I was born in London Islington, luckily the council in East London built a stable. Thank you to my parents, my dream finally came true and I learned to ride eventually gaining my British Horse Society qualifications and Equine Science Degree(Hons). Then life happened but the horses led me back to them on a path to healing to be able to heal them. I slowly peel those physical, emotional, and energetic layers for the horse to shift back to their true authentic selves with Reiki, Masterson, Communication. I realize my whole life has been gifted and privileged (not without pain) to get to this present day so I now also pay it forward to the owners.
I am a "Love & Authenticity Practitioner" (utilized by First Responders US) trained by the incredible human Mandy Morris, Colorado. Without Mandy, I would not be where I am today. I peel those beautiful human layers with this unique methodology to shift owners back to their true authentic selves, living in the present moment with their horses and where their horses already see them, the pure energy vibration of LOVE. Asking Horses® Arundel, West Sussex UK.