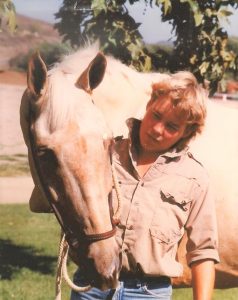 My love for horses started at a very early age, as young as I can remember, but I did not start riding until I was in junior high. After high school I had enrolled in art college in The Netherlands, where I am originally from, but a phone call from a friend in Belgium led me to accept a "temporary-it's-only-for-a-year, and then I'll go to art college", job with a Grand Prix rider who competed internationally in showjumping competitions in Europe, hence my excitement to postpone my art studies for a year. Over two decades later, during which I found myself traveling to Great Britain, then on to Australia and New Zealand, CA, all working with horses, grooming, training and riding different horse breeds but all geared for showjumping, and subsequently Japan, where I worked with the Japanese Olympic Team during the '84 Olympics in LA. After the Olympics, I stayed on in Japan and worked at a top breeding and training facility for race horses, and was in charge of a string of 13 show horses, training and coaching the boss' children, and training numerous staff members. A severe illness cut my career short, but after having taken a long time off from the show scene, I found myself drawn to the Masterson Method®, and am grateful to be working with horses once again.
I hope that my experience in grooming, training and riding different kinds of breeds and of all ages, and in stable management, will add to my effectiveness with this modality, as this is truly a unique and very effective way to alleviate tension and stress in horses, whether the competing kind or otherwise. And so far, I have noticed, that after a full body work session with a horse, I myself as well feel better!
Feel free to reach out to me, and let's share how the Masterson Method® can help your horses, mules and donkeys.