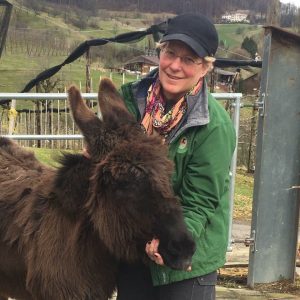 Becky Tenges, owner of Equine BodyWorks LLC and a life-long lover of horses, brings her extensive knowledge and training to the horse and its team of trainer, farrier, veterinarian and other equine professionals. Becky, the daughter of a farrier, grew up in Southern California on an Arabian horse ranch and earned a Bachelor of Science Degree in Agricultural Economics from UC Davis. After leaving a twenty-year career in Investment Banking, Becky returned to her involvement with horses, initially for the therapeutic benefit they provide to humans; and now for the therapeutic benefit that she can provide to them.
 With over 40 years of experience with horses, Becky's focus in her business practice is to provide therapeutic relief to her equine clients and information and answers to their owners and trainers. Becky brings straightforward methodologies and a heartfelt dedication to reducing discomfort and enhancing movement & performance. 
In her Equine Performance Bodywork practice, Becky brings relief of tension and improvement in motion to her equine clients using the Masterson Method of Integrated Equine Performance Bodywork™, as well as her knowledge and the many other bodywork modalities in which she has trained. Becky was drawn to The Masterson Method® as the foundation of her bodywork due to the gentle nature of Jim's Method; the logic of his interactive approach to alleviating soreness, strain and tension; and because this method is something you do with the horse, rather than to the horse.
In 2012, Becky joined The Masterson Team as an instructor, coach, and mentor, bringing to The Masterson team and to participants in her clinics, her over forty years of horse experience and over twenty years of leadership, public speaking and training from her corporate and non-profit board positions. Becky also serves as the Director of Fieldwork for The Masterson Method® education and certification program. 
As a bodyworker, Becky is a certified Masterson Method Practitioner, Equine Rehabilitation Assistant, Equine Thermographer, Equine Ergonomist, Photonic Health Red Light Practitioner, and Equine Kinesio Taping Practitioner. She has also taken advanced studies in Equine CranioSacral Therapy, Equine Fascial Manipulation, Equine Myofascial Release, Basic and Advanced Biomechanics (multiple clinics), Anatomy and Dissections (multiple clinics), and Integrative Veterinary Approaches.
In her near-constant quest for more knowledge to bring body relief to horses and information to the people who love them, Becky has pursued personal training with and certification from the horse world's best in each of the professional services she offers. Where body knowledge and clinical practice has not yet found its way from the human world to the equine world, she seeks training in human research and bodywork practices from the world's best to advance her knowledge and practice with horses. After completing her Masterson Method® training with Jim Masterson, Becky has been privileged to meet and learn from these outstanding equine professionals: Jochen Schleese, Sharon May-Davis, Tuulia Luomala, Gillian Higgins, Dr. Sandi Howlett, and Arlene White, M.S. Animal PT, and these veterinarians: Dr. Hilary Clayton, Dr. Kerry Ridgway, Dr. Ivana Ruddock, Dr. Raquel Butler, Dr. Rene Tucker, Dr. Melissa King, Dr. Anna Firshman, and Dr. Sybille Molle. From the human world of wellness and fascia, Becky has been privileged to learn from Robert Schleip Ph.D., Gil Hedley Ph.D., Tom Myers, LMT, and John F Barnes, PT, LMT. In addition, Becky has been honored to work alongside and learn from veterinarians Dr. Robin Robinett and Dr. Martina Neidhart and Equine Osteopath EDO®, Lorre Mueller. All of these people have been integral to Becky's success and have added immeasurably to her knowledge of therapeutic wellness, biomechanics, and rehabilitation.
Becky's bio and CV can be found here: https://www.equinebodyworksusa.com/about-becky