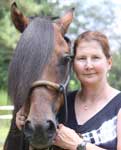 Anne's interaction with horses started at age 6 when she started riding at a local stable. It quickly became a passion and found it was something that came naturally to her. She started out riding hunt seat and continued with that thru her school years and she actually chose to go to a boarding school on the eastern shore of Maryland so she could train in traditional, English hunt seat under Pia Keating who specialized in training hunt seat. She then went to Cazenovia College where she earned an Associates Degree in Stable and Farm Management. During college, She spent the summers interning with a large animal vet and also working at several large show barns acting as groom and prepping Saddlebred and Morgan horses for the show ring.
After college, she married and worked at local barns doing various jobs and riding up until she started having children. At that time, she took a hiatus from horses until her kids were school aged but soon the calling to get back to the beloved animals could not longer be ignored. In the intervening years, she earned her pilot's license and instrument rating, became a PADI dive master's license and got involved in an organization called Angel Flight Southeast in Florida flying medically needy families to and from treatment centers all over the southeast.
After several years away, and moving from Florida to Colorado, she was presented with an opportunity to rescue a deserving thoroughbred which she jumped at. He became her segway into dressage because of his beautiful flowing movement. She got involved in showing dressage and show management and loved every minute of it. She had him for 2.5 wonderful years and mourned his passing but having been bitten again by the horse bug, it wasn't long before she got into yet another area of horses, Driving. Purchased a mare and trained herself how to drive a carriage and dabbled in breeding as well and delivering several foals. She then became a certified Equine Appraiser with ASEA specializing in Thoroughbreds, Morgan's and Appaloosa's. After several years of attending local auctions and obtaining data for doing equine appraisals, She found a new area to explore- Endurance. She lived in an area that had some of the most incredibly scenic rides. Colorado, Wyoming and Utah, going at least 25 miles on each ride. Hence her search for a method to keep the horses comfortable before, during and after the rides. That search took 2 years by which time, she had moved back east to Florida. When she saw The Masterson Method on you tube, she knew instantly that she needed to get more information so she attended her first weekend seminar in April of 2011. She was hooked! The gentleness of the method and the response of the horses just amazed her and still does. It was exactly what she was looking for in terms of being able to allow the horse to perform at its best, and being easy to do.