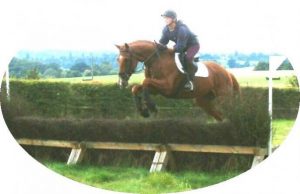 Anne began riding at six years old. She has been around horses ever since and has been working with them for over 30 years. She currently owns three and regularly competes them all. She loves a challenge and has an unquenchable thirst for knowledge. Her work criteria has always been that she refused to stay anywhere that she wasn't learning something new or helping things to change for the better. This led her to jobs in many equine disciplines including trekking, showing, showjumping, dressage, eventing, hunting and point-to-point; and has enabled her to have an understanding of horses from a rider, trainer and handlers point of view.
Her greatest love has always been to improve the life of the horses around her and to help develop a better understanding between them and their owners. She is a firm believer that horses basically want to co-operate but sometimes, due to pain or a lack of understanding, they feel they can't. Having worked extensively starting youngsters and re-training older horses with "issues", she found that if you first made sure they were comfortable, the rest of the training is a lot easier!
She has had first-hand experience of many different therapies from acupuncture to Shiatsu, which all seemed to work at different times on different horses. Then whilst in Australia, she had a horse that had trouble keeping true canter. After trying various schooling exercises and enlisting the help of several excellent equine therapists, a bodyworker friend passed on one of Jim's DVDs and said: "why don't you give this a go?" After only a few sessions the problem was resolved and she was soon asked to help with the other horses in the yard!
After returning to the UK, she became a Certified Masterson Method Practitioner and set up her own company – Combined Equine – which operates throughout Sussex, Surrey and Kent.
She finds the most rewarding aspect of The Masterson Method® is that it consistently produces significant measurable results and the horses all absolutely love it!