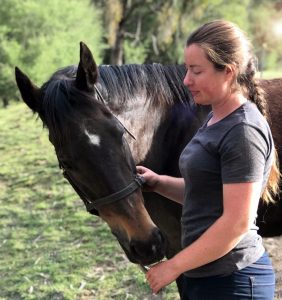 Coach Anna has a background in Eventing, Show Jumping and Dressage up to Advanced level, she went on to work starting and retraining horses from many disciplines including racing. However, she recognized that so many of the training issues we come up against are pain-related rather than training-related and that training the horse through these issues was unfair.
"Geo was my horse who finally put me on the path of finding out how to help horses with body soreness. He had extreme girthing issues that no one could help me with, bodyworkers told me that there was nothing wrong physically, it was a behavioral issue. That's when I discovered The Masterson Method® and we worked together through his physical soreness, I had a different horse and a whole new relationship with him."
Anna is also an Equine Podiotherapist studying at the Australian College of Equine Podiotherapy and she has over 10 years of experience trimming horses. "Apparently the whole horse is connected! Who knew?" In her experience horses will benefit most when their feet, as well as their bodies, are looked at as a whole.
She has spent 2018 studying in Australia and has taken as many opportunities for further education as she could pack in! Attending three Dissection Clinics with Sharon May-Davis, Dressage Clinics with Manolo Mendez and attending the Bowker Lectures with leading Distal Limb researcher Professor Robert Bowker.
Most recently she has started a saddle fitting qualification through Saddlefit 4 Life, with Jochen Schleese author of Suffering in Silence.
Anna is back in New Zealand providing Masterson Method® Bodywork, Equine Podiotherapy, Independent Saddle Assessments, lessons, and workshops. Anna lives near Hamilton, Taupo and Hawkes Bay.