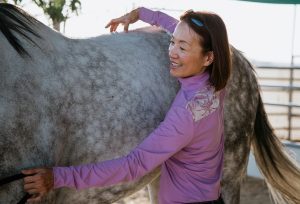 Our whole family stumbled into the horse world after falling in love with the horses and a protective donkey at my mother-in-law's farm in Louisiana that she bought after my father-in-law passed away unexpectedly.
In the following years, my daughter and I took riding lessons and volunteered with an equine-assisted therapy program before leasing and purchasing our own horse that we now share.  I had hired a bodyworker to work on Reiko regularly as part of his training program in dressage and show jumping.   It was eye-opening to see the bodyworker put Reiko into a relaxed state shortly after the start of the session.  That was my initial exposure to The Masterson Method®.
The bodyworker was moving out of the area, and I wanted to spend more time with horses, so I took the Masterson weekend seminar, followed with the Advanced 5-day with Jim.  My goal was to learn as much as possible, and becoming a Masterson  Method Certified Practitioner gave me the structure to pursue the goal. After leaving my corporate job, I started as a working student for a Grand Prix dressage trainer, as well as volunteered at a local equine rescue and gained invaluable experience with a wide variety of horses.
It's rewarding to work with the owners, trainers, vets, chiropractors, farriers, and saddle fitters to help our equine partners.  I have found horses all enjoy and benefit from the magic of The Masterson Method®, regardless of their job disciplines or if they are in rehabilitation, maintenance or performance programs. I am humbled to be able to facilitate their relaxation and improve their well-being one session at a time.