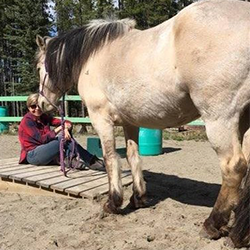 Angela has had 'horse fever' for as long as she can remember. A native of Vancouver Island, B.C., her grade school years were spent riding, learning as much as she could about everything horse and attending 4H, Pony Club and local competitions where she participated in various disciplines, from Showmanship to Eventing.
A circuitous route through University gave her a background in Animal Science and Dentistry and she's returned to her first love – horses! She says her real school started at 14 when she read and re-read Alois Podhajsky's Complete Training of the Horse and Rider. That gave her a foundation and appreciation of absolute respect for the horse and she has spent many years schooling with and studying clinicians that honor this.
She was thrilled when she first saw the Masterson Method techniques at a two-day seminar in the Yukon. She immediately saw the benefits to the horse, the softness of the techniques and how it so beautifully complements what she is achieving with her horses and students. The rest is history!
Presently, she resides between Yukon and Salt Spring Island, where she rides, instructs and makes horses' lives better every day. Willing to travel to these areas: Whitehorse, Yukon; Fraser Valley, B.C. and Vancouver Island, B.C.