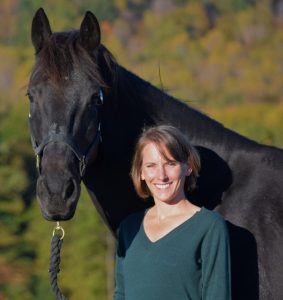 Andrea was introduced to horses at the age of eight with the gift of riding lessons for her birthday.  As she grew up and her passion grew, she did everything she could to get more time in the saddle and at the barn.  She enjoyed mucking stalls, cleaning tack, grooming, and just spending time with the horses as much as actually riding.
Andrea went to Virginia Intermont to pursue a degree in Equine Studies.  At the time she attended, the school was nationally known for its riding and equine program.  During the summer and winter breaks she worked as a working student for a Show Jumping barn.  She schooled horses in preparation for the show ring and managed the daily care of the horses.
After a degree change to Clinical Laboratory Science, Andrea's equine focus shifted to more of a passionate hobby and the purchase of her first horse and a shift into the world of eventing.
Andrea's horse broke the wing of her pelvis and after dealing with an unsuccessful rehabilitation put her on her path to find The Masterson Method®.  After trying many different types of body work and exercise combinations, Andrea found success and comfort for her horse with the help of a Masterson Method® Certified Practitioner.  Andrea was intrigued with the method and decided to pursue certification for herself.  Her main goal is to continue to help her horse and other's horses stay sound, comfortable, and to reach their competitive goals.