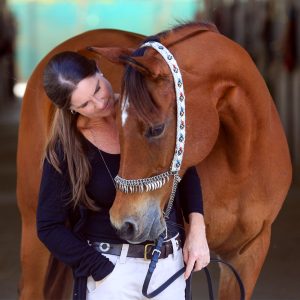 Allison grew up in Hong Kong and Kenya before moving to the UAE in 1996 to work. It was during holidays back to the UK and Derbyshire, when her aunt used to take her out riding, that her love of all things equine really began. With a soft spot for Arabian horses, Allison has had some incredible mentors, both equine and human, throughout her journey in a variety of equestrian disciplines.
A competitive endurance rider for 16 years, Allison was fortunate to work with and compete some incredible horses at CEI 1, 2 and 3* levels in the UAE, Germany, France, UK and Australia. It was during this time that she first came across Jim Masterson and his bodywork methods. Feeling the difference equine bodywork made to the horses she competed, she knew that one day she wanted to learn how to make that difference and improve the movement and well-being of the horses she was around.
Since being broken in to race at 3 years old, Allison's own Arabian mare had regular equine bodywork. She believes this is what has made the difference throughout her mare's competitive career and why, now at 25 years old, she still loves work and the occasional competition.
It was by chance that Allison found MMCP Claire Beech to work with her mare and she was amazed at the relaxation and improved mobility from the Masterson Method® sessions. Watching Claire's every move, Allison knew the this was the thing she had been looking for and certified as a MMCP in 2023.
Based in Dubai and Sharjah, Allison will travel to other Emirates by arrangement.