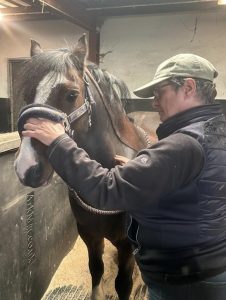 Living in the Scottish Highlands my entire life, I have been fortunate to have been involved with and owned horses from a young age, starting with hacking in the beautiful Highland countryside, then competing at my local riding club. I then moved on to endurance riding for 20 years, followed that with a few years showing and currently enjoy dressage.
As the owner of a reactive and anxious horse, I was seeking some means to help him deal with the situations he found particularly stressful when I was introduced to The Masterson Method® through a demonstration.  I recognized it as a modality that could help my nervous and reactive horse to relax and gain the mental confidence to comfortably handle situations that he found stressful while also improving his range of motion and mobility.  I started my Masterson Method® journey almost immediately, attending a Weekend Seminar then the Advanced Five-Day Course back to back and was hooked.  A year later I qualified as an MMCP and am excited to bring the benefits of The Masterson Method® to horses in the Highlands of Scotland.
I work with a wide range of horses from field companions to those participating in dressage, showing, endurance and other performance disciplines, and from youngstock to retired oldies.  A firm believer in always taking a holistic approach to caring for our equine partners, I am keen to collaborate with other professionals to keep your horse happy and healthy in body and mind.
And my own horse?  The changes in his overall wellbeing have been remarkable since he started with The Masterson Method® and while he will always have his quirks they are just a side-note in an otherwise much calmer, more confident and happier life.