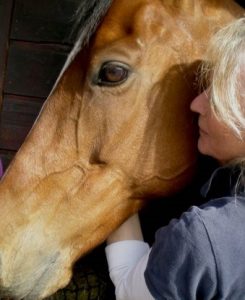 Serendipity – good fortune or fate.
That is how I found an internet video of Jim Masterson demonstrating the bladder meridian technique – a perfect illustration of serendipity. At the time, I did not appreciate how watching the bodywork demonstration would mark the beginning of a life-changing journey with The Masterson Method®.
I was looking for help with my young thoroughbred mare, who was not able to maintain canter on a circle. (And, although not wishing to be negative about the expertise of a variety of physiotherapists who had examined her – none had been able to resolve the problem with her pelvis). Incredibly, not only did learning Masterson Method equine bodywork lead to easing the sacroiliac imbalance for my horse but, eighteen months after seeing the video, to my qualifying as a practitioner.
The study of equine anatomy and biomechanics is an ongoing commitment, as it is my belief that understanding how the horse functions, improves the quality of each bodywork session.
I have also studied communication with a leading animal behaviour expert – the ability to connect with horses enables me to liaise closely with owners, to ensure the optimum result is achieved for every horse.
Through working with my own mare, The Masterson Method® has demonstrated what can be accomplished in terms of improved performance and a sense of well-being. It is my wish to bring this technique to other horses, that they may also know the benefits that relaxation can bring to mind and body.
Located in the South East, I work with clients in the Kent, Sussex and Hampshire areas. Please feel welcome to contact me if you wish to make an appointment for your horse.