Dillon, Montana, United States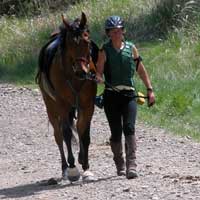 Trina grew up with horses in Vermont, competed in eventing, field trials, galloped thoroughbreds, managed a ranch in Colorado, and most recently competes in endurance riding. She became a firefighter for the government in college and made a career out of it. Seeking knowledge regarding her other passion of horses, she became certified in Equine Sports Massage in 2004 through EquiTouch in Colorado.
In 2013 Trina's endurance horse was diagnosed with a deteriorating ligament condition and she began searching for ways to improve and maintain her mare's comfort and quality of life. That's when she came across the Masterson Method. After trying a few techniques on her horse she discovered a surprising result of a sound(er) and happy horse! When she incorporated the techniques into her massage routine, she began getting feedback from clients that their horses were moving significantly better and their attitudes had improved. So, needless to say, she attended the weekend and 5-day courses in Arizona and started on the certification process. Her business has picked up significantly since she has been learning this method. In the last year she has travelled to the National Endurance Championships in Almo, Idaho, the Tevis Cup 100-mile Endurance Race in California, and the AHA Endurance Championships in Oreana, Idaho. She currently lives in Dillon, Montana with her husband and two little boys, her horses, dog, cat and 9 chickens.