Colorado Springs, Colorado, United States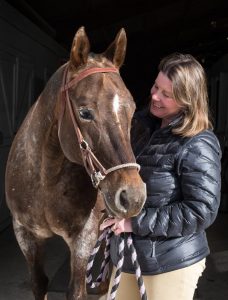 I first became involved with horses in 2000 when I became a Mounted Police Officer for an agency in the San Francisco Bay Area. We worked our horses hard and they took on a lot of stress. I later became a Detective and Investigations Sergeant, where I felt the stresses which were placed on officers, families, victims and dispatchers. Much of this stress led me to go back to working with horses when I retired in 2017.
I moved to Colorado and found a home as a volunteer with StableStrides. I began to see how the horses could help so many people. And, like I saw with the police horses, the therapy horses took on much of the stress from their clients. I met MMES Jen Sweere at StableStrides and she introduced me to The Masterson Method. I saw first-hand how Jen was helping our therapy herd and I became interested in it myself. My first step was to become a PATH International certified Equine Specialist, then I decided to work on my MMES certification. With everything I'm learning my goal is to help first responders (human and equine alike) deal with their stress through equine therapy and The Masterson Method.