Santa Fe, New Mexico, United States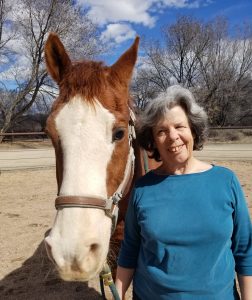 Sandra "Sandy" Benson has always been in love with movement and horses. She grew up in Minnesota jumping over anything as both horse and rider. Her youth involved working at a local barn for riding lessons on borrowed hunter/jumpers, along with studying dance at the local Performing Arts School in Minneapolis. After college she briefly worked in the US Senate until her love of dance took over and she spent the next 13 years choreographing, performing and teaching in the modern dance scene on the East Coast. She also studied numerous bodywork systems and learned the long form of Tai Chi Yang style.
By 1990 longing for a change to city life, a one-way ticket to Katmandu, Nepal, began an adventure that lasted the next four years, with most of that time living in the foothills of the Himalayas. Once back stateside, she decided to attend a Trace Dance course in New Mexico, where, by chance, her first house-sitting job there included caring for horses which re-kindled her fascination with equines.
Fast forward almost 20 years where many horses guided her on a path of teaching horsemanship fundamentals to competing in Reining and getting certified as a Cranial/Sacral Therapist. From experiences of applying the Cranial/Sacral techniques on her horse, Floyd, and wanting to find more ways to keep him in good shape as an aging Reiner, she discovered Jim Masterson's videos on the internet.
Impressed by his concern for the whole horse, she knew she'd found a path that would not only deepen her connection with horses, but also give her the skills to help them live in greater balance and harmony. In August 2018 she became the first Masterson Method certified practitioner in NM, joining an international family of skillful and caring body workers. Feeling the process of the horse relaxing with this work brings her great joy and satisfaction. Sandy is grateful for every opportunity to share her discoveries with The Masterson Method for the benefit of both horses and riders.