Grand Rapids, Michigan, United States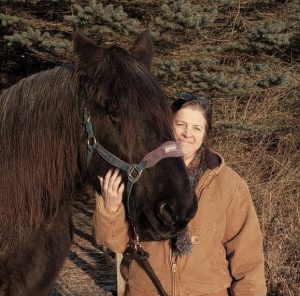 We can say that I am working on my fourth career. I was a stay-at-home mom and homeschooled my two oldest children. Then I was the primary caregiver for both my parents and my husband's parents. I am currently a RN Care Manager in a local community hospital. It was while at a highly competitive nursing school that I became involved in a therapeutic riding program. Extra credit points were earned only by completing volunteer hours at an "approved" organization. At the same time, my daughter needed to log 20 hours of volunteer work towards high school graduation and hoped it could involve animals. We signed up for the fall and winter sessions and thought that would be the end of things. That was in 2011 and I am still working with the horses there. My weekly dose of Vitamin "H" or Pony-Prozac helped me in ways I cannot describe to survive the stresses of nursing school, being the caregiver of a parent diagnosed with Alzheimer's Disease, and day-to-day living. There were more benefits being a volunteer at the therapy center. In addition to helping with the classes, my daughter was hired as a staff member for two years and then spent two summers on Mackinaw Island driving the three-horse carriage tour. While she was working there, we recruited my son to help her for safety reasons. Now, he is also a certified MMES.
I found the Masterson Method videos while searching the internet and wanted to use the techniques on the therapy horses. After attending the weekend workshop in North Jackson, Ohio, I started to practice on Bear who had been one of the first horses I led during classes. He responded so well and yet there were many more horses who needed this gift of bodywork. With so many horses who would benefit from the Masterson Method sessions, I hope to partner with the therapeutic riding instructors to recruit volunteers, veterans and first responders to do the Bladder Meridian on as many horses involved in therapeutic riding programs as possible.